Knowledge about Panama is usually conceived in terms of the Canal, the Hat, and the City: but recently, many travelers have discovered a natural, eco-sensitive side. Panama is a country of rainforest and jungle, from living coral reefs and thick mangroves, to the intense colors -- blue, green and red – of quetzal birds, to yellow and red neon frogs, to five of the world's seven species of sea turtles, to a profusion of flowers. Panama is home to over 10,000 plant types -- and orchids enjoy a special status as the aromatic Holy Ghost Orchid is the Panamanian national flower. Panama is one of the most biologically abundant and diverse places on earth.
And, though Christopher Columbus explored the area in 1502 while searching for the passage to the Pacific, much of Panama remains under-developed, until now.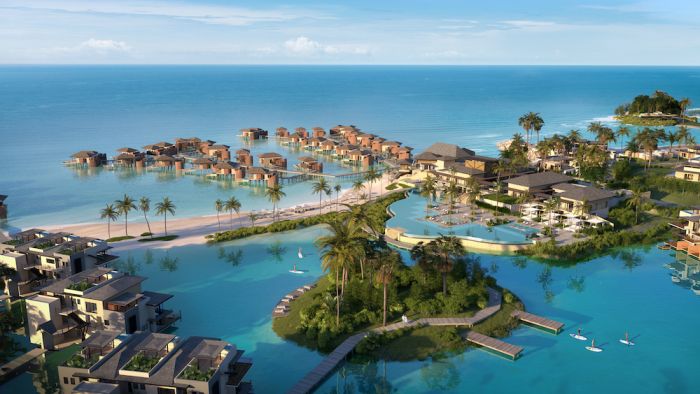 Lagoon of CasiCielo with Overwater Bungalows
CasiCielo is a new resort/residential development with a profound eco-sensitive vision, located on an undeveloped peninsula on the archipelago of Bocas del Toro, Panama. It is a hurricane-free climate, dotted with substantial surf areas. Bocas is well-known as the Galapagos of the Caribbean.
CasiCielo, meaning
almost heaven
, spans 457-acres on Panama's Bocas del Toro, and is launching sales on the first phase of this anticipated resort/residential project, designed with multiple dimensions of green eco-sensitivity. In 2021,
Viceroy Hotel & Resorts
will launch a a 118-key hotel with 77 branded residences -- all designed by
Zurcher Arquitectos
, Wimberly Interiors, with an elaborate wellness concept by GOCO Hospitality.The resort is part of Viceroy's Icon Collection, representing the award-winning group's sustainable boutique portfolio. Surrounded by jungle and ocean, all virtually untouched, the CasiCielo resort complex is designed to be integrated into its natural surroundings.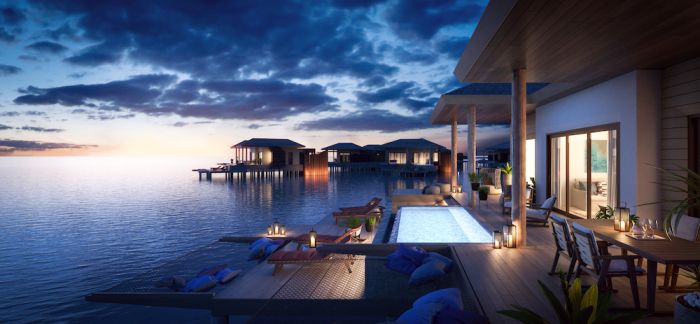 Overwater Bunglaow exterior
Over-water bungalows, a state-of-the-art wellness center, meditation rooms, lookout points, treehouses and other features allow guests to immerse themselves in one of the most awe-inspiring locations of the CasiCielo property — and Bocas del Toro itself. The Viceroy Bocas del Toro is CasiCielo's inaugural landmark project —and ownership opportunities include beachfront lagoon residences, private villas, and treetop properties.
For the developer Circular Strategy Group, comprised of Miami-based, Panama-raised, Moshe Levi and Panama-based Alfredo Monagas, CasiCielo is a unique vision, with deep Panamanian roots.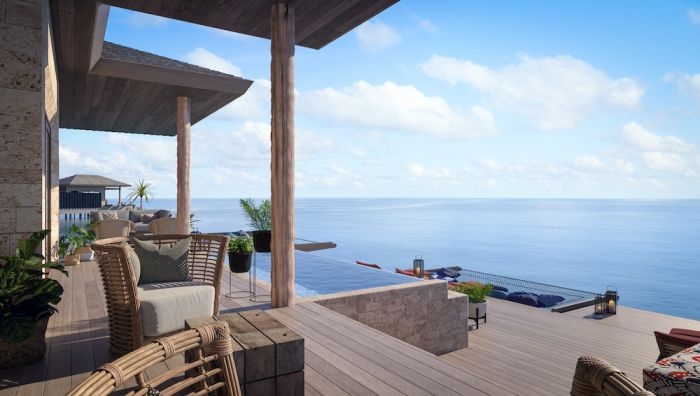 Daytime, Overwater Bunglaow Exterior
"Being from Panama, I felt this was a golden opportunity, not only to preserve Bocas and make a positive impact in the region but also introduce a new way for conscious communities to be built," said Moshe Levi, co-developer of CasiCielo. "With the infrastructure already in place, CasiCielo essentially serves as a blank canvas that will continue to evolve, while remaining a true haven for those seeking a different, a greener way of life."
And this different, eco-sensitive way of life certainly includes personal wellness, reflecting a unique architectural wellness design for the community.
"The Viceroy Resort & Residences is not only about being part of an archipelago of tropical islands in the waters of Bocas del Toros, but it is also about hotel visitors creating within themselves a sort of archipelago of sensations traveling from one ambience to another forming a chain of memories to take back with them, said Josephine Leung, Josephine Leung, Group Director of Design & Development for GOCO Hospitality. "It is about the resort and residences co-habiting with nature amongst the tree giants, the toucans and the monkeys, beside a turquoise ocean. We feel this architecture is an expression of experiential islands within that order."
CasiCielo is deepening and strengthening Panama's emergent appeal as an eco-tourism and adventure haven– as it is set on an undeveloped peninsula in the archipelago of Bocas del Toro, surrounded by the Caribbean and also, the 45,000-acre protected San San-Pond Sak Natural Reserve.
It is an unusual project, combining a unique Panamanian vision of eco-sensitivity and luxury, with native nature and culture for the first time.
*Original article posted: justluxe.com